Ahh blogs. One of those necessary parts of your website that often gets de-prioritised, but helps contribute to your SEO rankings immensely. Not to mention the part it plays in driving web traffic. Whether you're already at it, using a freelancer or considering the worth of starting (and maintaining) a blog, this one right here is for you!
It can be tricky to know how to get the best out of your content creation efforts. How do you know if you're covering the "right" topics? How long should they be? Is there a magic formula that makes them even better? Kind of. It's not a science as such but there are some factors that separate the good from the ugly.
All about personas!
We bloody love a persona here at DPC+UP. Aside from being super helpful to make sure all your sales and marketing teams are aligned on your target market, they're great for helping you write. Whether that's email and social media campaigns, ads or web content.
Think about your best customers. How do they behave? What makes them tick? And importantly, how do they engage with you? It's important to know this, so you know what language to use without alienating one way or another.
Think about:
Their job title and their experience
How hands on are they?
How did they find you? (e.g. Google, social media, trade show, recommendation)
Do they read emails, prefer a phone call or are they following your every move on social media?
What are their frustrations, and importantly, how do you solve them?
What are their key motivators?
Are they super professional and only talk necessary business, or have you built a more friendly rapport?
Where to begin: planning your content topics
As always, let's circle back to the Rosetta Stone of your marketing: your SEO strategy. Consult your keywords. Explore Google Search Console to see what queries drive traffic to your website. If you need a starting point for inspiration, look at what your competitors are doing and also online tools like AnswerThePublic and Google Trends.
This is only part of the planning process though. You'll also want to think about your service clusters for what you do. If you haven't yet identified these, have a look at how we recommend planning them.
The anatomy of top performing articles
Here's where some of the tried-and-tested science comes into play. While a lot of your content success will rely on a combination of planning and distribution, a good chunk also lies in the structure.
This epic infographic from SEMrush covers the top five areas to consider. With the data of over 700,000 articles under their belt and microscope, the findings are certainly worth factoring in next time you hit the keyboard.
Longreads of 3000+ words get 3x more traffic, 4x more shares, and 3.5x more backlinks than articles of average length (901-1200 words).

Shorter articles (300-900 words) have zero shares 4.5 times more often than long reads of 3000+ words.

Articles with long headlines (14+ words) get 2x more traffic, 2x more shares, and 5x more backlinks than articles with short headlines (7-10 words).

Articles with list headlines (those that start with a number like "N things…", "N ways…", etc.) get 2x more traffic and 2x more social shares than other types, followed by guides and "how-to" articles.

36% of articles with H2+H3 tags have higher performance in terms of traffic, shares, and backlinks.

Articles with 5 lists per 500 words compared to articles with no lists get 4x more traffic and 2x more social shares.
And drilling down further into their point made about how content length impacts performance, here's another visual for you!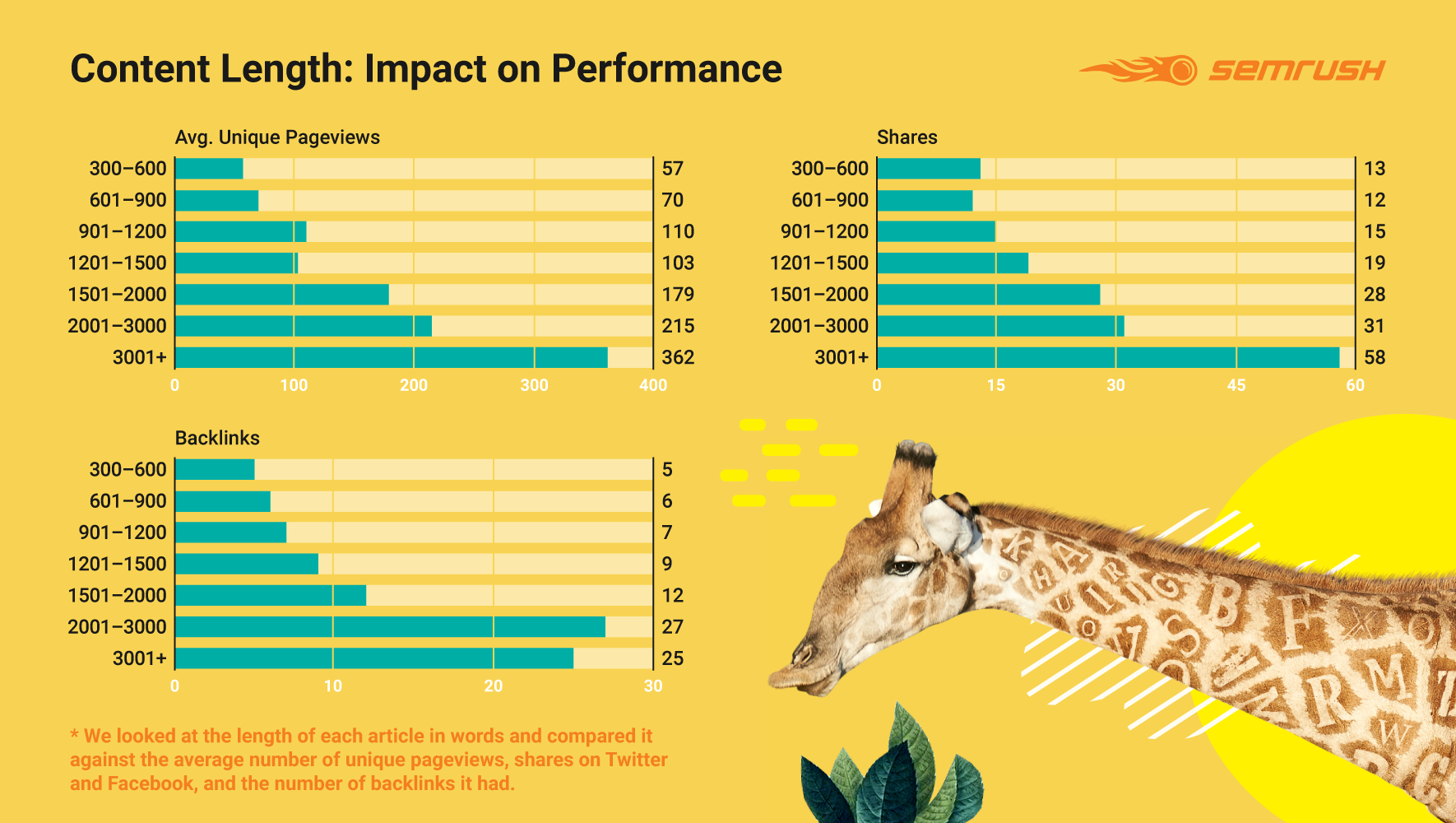 Evergreen content is the MVP
So we've covered how to inform your content topics and the anatomy of the ideal blog… but what else should you consider? Evergreen content. Topics that will be around for the long-haul. Good old reliable content that you can reuse, repurpose and not feel overly worried about it becoming horrendously dated.
What is evergreen content?
Think about what is an on-going topic for your industry. For us, it's how-to and best practice guides for digital marketing. It should answer the age-old questions that don't hugely change (although it's good to review and update your evergreen articles when required, as search engines also appreciate that).
For example, compare these two graphs.
#1 How to start a blog

#2 Christmas cake recipe

The How to start a blog graph shows a fairly consistent level of search over time. There aren't any major spikes or flat-lines. Whereas the Christmas cake recipe spikes and goes flat consistently.
Maximising the value of your evergreen content
Evergreen content is great for many reasons. Let's examine:
#1 SEO rankings
Of course, one thing that's always on our mind is Google. It's the apple of our eye. If you plan with your keywords properly, it should rank competitively in search engines, driving consistent and frequent traffic to your site.
#2 Driving traffic from email and social media
The beauty of using email and social media as drivers for traffic is that you only need a small summary before the link. No one expects (or wants!) to read the entire article on page, the entire purpose it to win that click through (without being considered click bait).
We often recommend when planning for this type of content sharing to pin-point the key take aways. You might want to look at the subheadings within the blog, for ease of example. From there you could easily have around 3 – 5 pulls that you can reuse over time.
#3 It keeps its value
Because you can keep reusing this type of content, it holds its value better. Particularly if it drives quality traffic to your website.
There's still room for contextual content!
While we do think evergreen content is valuable, we're all about that ecosystem. And when it comes to blogs, yours should be a good mix of relevant, contextual content (e.g. industry updates, trends and what's relevant right now) and those reliable evergreen articles.
So you have a blog, what next?
It's time to distribute! Make sure you are taking advantage of UTM tracking on all links you share, as this will help attribute source, medium and campaign in Google Analytics. Our favourite online tool to build these links easily is the Google Analytics Campaign URL builder.
N.B If you run email marketing campaigns, your provider should already have link tracking set, but it is worth checking!
#1 Social media
It's more than just copying and pasting a link and hitting share. You need to think about what your post is going to be: what's the one key take away you want to promote from this blog? (and if there's more than one, excellent, that means you can share again in a few weeks).
What's more, make sure you're taking advantage of things like hashtags (where relevant) and tagging associated contributors or colleagues.
#2 Your lead nurture campaigns
If you're not yet on the marketing automation bandwagon, here's some food for thought. If you have an active blog (or are thinking of starting one), building an email funnel is a great way to distribute the content you're already in the habit of creating.
If this marketing channel is new to you, check out our blog on building a compliant database and our five steps to email marketing success.
Our inbound marketing 101 blog covers off exactly what you need to do to build a successful journey, the types of content to use at each stage of the funnel.
Keep putting your blog on the back burner?
Let's face it, sometimes there are bigger fish to fry than sitting down to plan and write a couple of thousand words. You know it, and we certainly do. Hell, this is one of the key reasons a digital marketing agency like us exists! So if you need a helping hand planning your content strategy, producing blogs, campaigns and the like, let us know. We will be more than happy to discuss over a (digital) cuppa.