Now more than ever before, having an online store is crucial for not just success but survival. But how much do you know about eCommerce best practice?
As we start another lockdown, non-essential stores are once again forced to close. Meaning many need to get creative with how to continue operating business.
A great example of change strategy saw this pub converted to a shop and pizza delivery service.
But for many, especially outside of the food and beverage industry, it's not possible. And that is where eCommerce is the MVP. Take a look at ASOS, arguably the biggest industry player before the pandemic:
ASOS UK sales have risen by 18% year-on-year to £1.18bn, according to the brand's full year financial statement ending August 31st 2020. International retail markets, which include the European, US and ROW regions, performed even higher at +20% during the same period.
Whether you're new to eCommerce, or not, it's always a school day. And when it comes to making tweaks to boost your success, it's good to keep up with the latest trends and research.
Top eCommerce platforms
There are many eCommerce platforms available, each with their own merits.
#1 Shopify
Ideal for fledgling businesses, all the way up to enterprise, Shopify is simple to set up and use. It has many features to customise your store and its own apps. You will pay a monthly subscription for this, which includes hosting.
Find out how we support The Eyelash Emporium with their Shopify store >>
#2 nopCommerce
Arguably our favourite platform at DPC+UP, nopCommerce is a great alternative to Magento. As another open source platform, it's feature-rich, fast, secure and the perfect 'out of the box' solution.
Find out how we set up Rokers Petshop for success with a nopCommerce site >>
#3 WooCommerce
Another open-source commerce platform, we love WooCommerce! Plugging directly into your WordPress website, WooCommerce is scalable, free to use and there's no limit to customisation. Like Magento and nopCommerce, you will need to pay for extras such as hosting, security and some extensions.
eCommerce best practice
We've split our eCommerce best practice tips into three areas, covering the core areas to focus on first:
Website
Payments
Optimisations
Website
#1 SEO is your priority
Regardless of your website function, you should always prioritise your SEO strategy. This is especially true of eCommerce. Research suggests that nearly half of consumers will start their journey on Google.
#2 Focus on your user journey!
Again, it's not just an eCommerce best practice, but for all websites. Analysing user behaviour enables you to understand how customers use your website. And from there, allowing you to optimise their experience. And what does a better experience bring? More conversions.
#3 Simplifying menus
It can be easy to get carried away with menus and mega menus. Yet over complicated structures can turn off consumers and can slow page load times.
We recently rebuilt Zone3's website using Shopify Plus. We focussed on optimising their store and updating the design. In particular, we simplified the menus, showing only the main categories identified in the user journey process. The result is a clean design with minimal clutter.
Read more about Zone3's eCommerce website here >>
#4 Product filters
Following on from simplifying menus, your customer is still likely to want to narrow down their selection to what they want to see. No one wants to scroll endless pages to find what they want.
For example, eCommerce best practice champions, ASOS, simplify their menus to show:
Gender > Category: e.g. Shoes and from there use a range of filters to narrow down your search.
#5 Optimise your product pages
We're not only talking about SEO here, but describing what's there. Think of what's lacking when you can't shop in-store. Customers want to know brand, material and functional features. But they also want to know: is it soft? Is it sustainable? Is it going to be see through?
A selection of high quality images and videos can be helpful here.
#6 Search bar!
So you've decluttered your website. You've simplified your menus and you have some great filters on the category pages. But nothing beats instant gratification!
Think about websites like Amazon. Do you ever go through the menus, or do you treat it more like a search engine?
Payment
Don't let anything be a barrier to converting your customer! By offering a range of payment methods, you remove obstacles, like having to find your card.
According to JP Morgan, here's how online payments looked in 2019: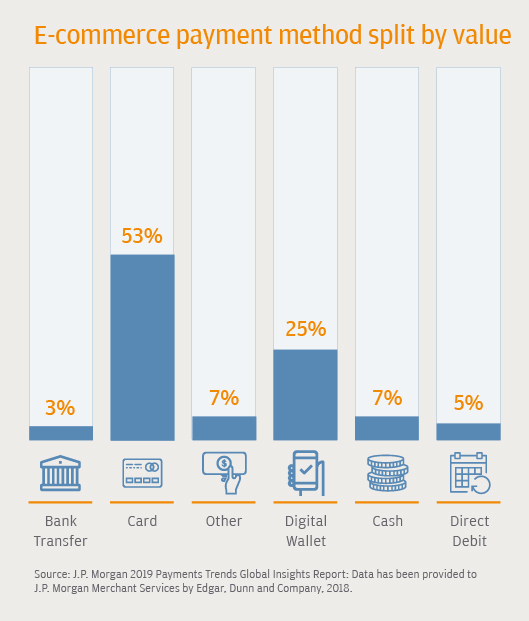 (digital wallet includes Apple Pay, Google Pay, PayPal)
Furthermore, according to Neil Patel, 23% of users will abandon their shopping cart if they have to create an account.
When you force users to create an account before checking out, you are basically saying "no" to a huge amount of conversions. Personally, I'd rather have a more conversions including guest checkouts than to have less conversions and a few extra membership signups.
ASOS offer three journeys:
Sign up with social credentials for new customers
Login for existing customers
Guest checkout
Optimisation
As always, we're evangelical about optimisation. Whether that's doing regular A/B split testing on pay layouts, buttons and the like, or something else. Regular testing and learning is so important to keeping on top of any website.
As of 2020, here is the global breakdown of internet traffic:
50.88% mobile
46.39% desktop
2.74% tablet
So there's really no excuse these days to not have a fully mobile optimised website.
In particular, this graphs below show the gain vs. loss for non-mobile optimised pages vs. those that are fully responsive.
eCommerce best practice summary
If you've got eCommerce on your mind but don't know where to begin, please get in touch. At DPC+UP, we are passionate about all aspects of eCommerce. Whether it's building a new online store, upgrading an existing one or helping solve your pain points, it's what we do. Simply fill out the form below and we will be in touch.