There are many, many buzzwords bandied about since the beginning of the pandemic. Furlough. Social distancing. Remote offices. COVID secure. Many businesses were forced to accept that having their teams work from home was a sink or swim moment. It was a time to rethink WFH as a privilege only for senior staff or exceptional circumstances. Above all though, it was crunch time. Put bluntly, if you couldn't work from home, you were on "furloughed"… which is not ideal for anyone involved.
Out of this, a lot of people have been talking about digital transformation (again). It sounds pretty cool and sophisticated. And it is. But what many of them were actually discussing was digitisation. Hey, no shame in not knowing these are two different things, so long as you take time to learn the difference.
Let's have a look at what they both mean, entail and how to establish where you are and what your next steps should be.
What does digital transformation mean?
Contrary to popular belief, digital transformation is less about technology and more about people. You can pretty much buy any technology, but your ability to adapt to an even more digital future depends on developing the next generation of skills, closing the gap between talent supply and demand, and future-proofing your own and others' potential.
So really, digital transformation is a state of mind and a way of working. But not just as a team, on an organisational level. It's a holistic approach. Driven by leaders and championed by everyone from newbies to the old school. It is about learning and knowledge transfer. Ultimately, something that helps everyone by encouraging synergy.
Yes, this is flirted with in some ways in the new push for remote working capabilities. However it isn't even the tip of the iceberg.
OK, so what is 'digitisation'?
Digitisation is most often mistaken for transformation.  The process of taking existing processes and digitising it is an important first step. It's not, however transformational.  We've been using technology to improve existing physical and intellectual processes since the industrial revolution.  Customers expect businesses to have websites, apps and social channels and platforms. That does not transform a business.  It gives them permission to continue to serve their customer base.
In essence, digitisation is an essential stepping stone to start digital transformation. It makes it much easier to implement if your business is already on board with digital marketing. That's not to say there's no place for print, bricks and mortar or outdoors advertising. Digital transformation is about harmonising both.
Let's look at some examples of digitisation and digital transformation, in a lovely table
It's always simpler when you can compare the steps. Especially when there's an aspect of comparison to take into consideration. Salesforce has done just that:
As you can see, there are plenty of benefits to using digital channels. But, we need to read between the lines. Traditional marketing channels have huge value but their return on investment might not always be as easy to quantify. Harmonising the approach by appreciating the need for both (where applicable) is important. And that is exactly why a tight strategy is essential to implementing this way of working.
A digital transformation strategy
First you need to make sure you have your business and marketing plan <link to marketing plan article> in order. The more thorough your understanding of your business, goals and positioning, the better.
ionology suggests the following five steps are crucial to developing your strategy: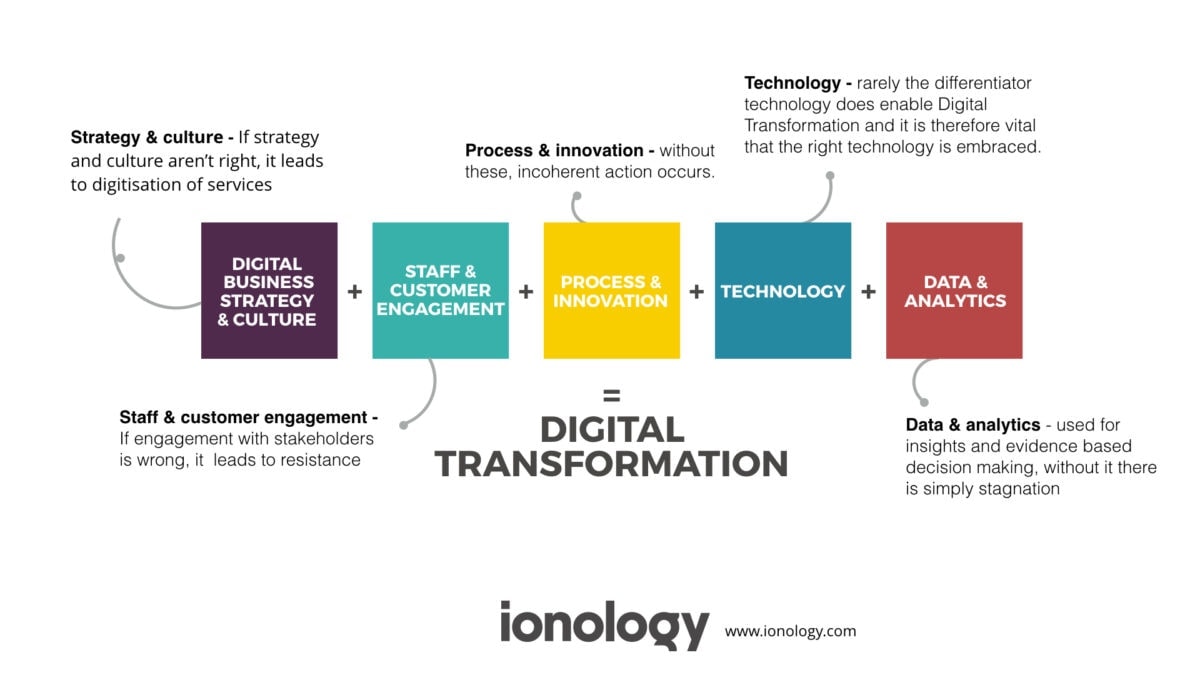 Has the pandemic affected digitisation?
Absolutely. The pandemic has fast-tracked many businesses to get digital. Whether that's having meetings and workshops via Zoom or setting up an e-commerce website.
BDO had this gem, which is so very true:
…businesses that had not only developed digital strategies but executed on them prior to the pandemic are now in a position to leapfrog their less nimble competitors. That isn't to understate the COVID-19-related challenges they now face, irrespective of their current level of digital maturity.  Going digital in and of itself isn't a panacea to all that ails businesses in the current economic environment. They do, however, have significantly more tools at their disposal to not only weather the storm, but to come out the other side stronger for it.
Are you ready?
Digital transformation is predominantly a company culture shift. So you don't necessarily need to have all your chickens lined up when you start looking at evolving your business plans. In fact, we'd argue that the right leadership, a positive attitude, willingness to learn and above all, patience is all you need.
Patience is particularly important whenever creating a cultural shift in a company. There will always be team members who are more adaptive when it comes to change. The way to approach this is by explaining the how's and why's, so it's important you present this equipped with the stats and a well planned strategy.
How can we help?
Whether you are looking at digitisation or a digital transformation strategy, let us help you. We are here to support from all capacities. From starting afresh to optimising your existing digital channels. Often an outside perspective is precisely what is needed.